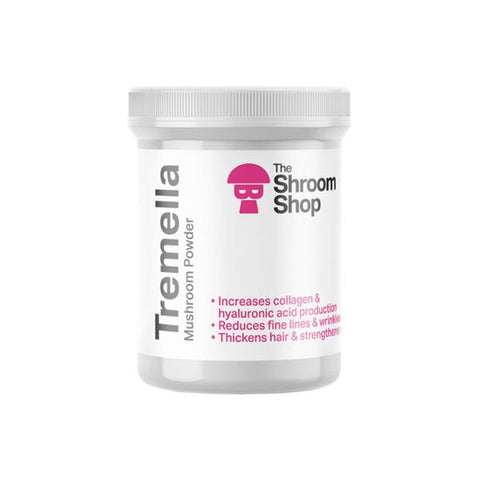 The Shroom Shop
The Shroom Shop Tremella Mushroom 90000mg Powder
Sick of wasting money on expensive creams and serums that promise 'banish the signs of ageing' within weeks but the only thing they banish is your bank balance? Then the The Shroom Shop's Tremella Mushroom Powder may be what you're looking for. Tremella is packed full of powerful antioxidants that help to prevent cell and tissue damage to help prevent further fine lines and wrinkles forming. This mushroom also increases collagen and hyaluronic acid levels to reduce the signs ageing from within for a fuller, more youthful look.
90,000mg of Active Pure Tremella Mushroom Extract
60 x 1500mg Servings
Increases Collagen & Hyaluronic Acid Production
Reduces Fine Lines & Wrinkles
Thickens Hair & Strengthens Nails
Approx. 2 Months Supply
Add To Any Food/Drink With Scoop
Ingredients: Tremella Mushroom Extract, (30% Polysaccharides).