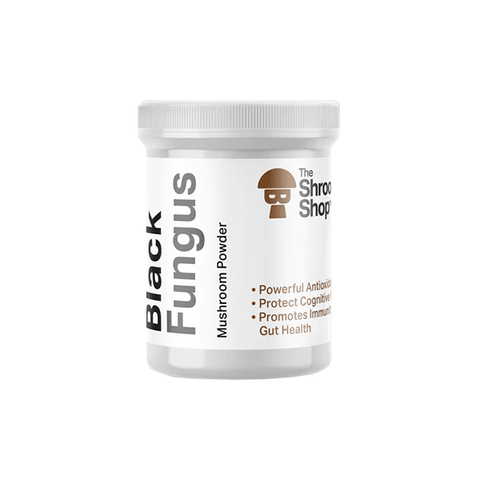 The Shroom Shop
The Shroom Shop Black Fungus 90000mg Powder
Introducing The Shroom Shop's Black Fungus Extract Powder, a powerhouse of health benefits. With powerful antioxidants, it provides essential support for your body's defence system, helping to combat harmful free radicals and promote overall well-being. Not only does it bolster your immune system, but it also nurtures your gut health, fostering a balanced and thriving digestive environment.

But that's not all—this Black Fungus Extract Powder goes the extra mile by safeguarding your cognitive health, offering protection and support for optimal brain function. Experience the remarkable benefits of this exceptional supplement today and unlock your body's true potential.
90,000mg of Active Pure Black Fungus Mushroom Extract
60 x 1500mg Servings
Powerful Antioxidants
Promotes Immune & Gut Health
Protect Cognitive Health
Approx. 2 Months Supply
Add To Any Food/Drink With Scoop
Ingredients:
 Black Fungus Extract, (30% Polysaccharides).