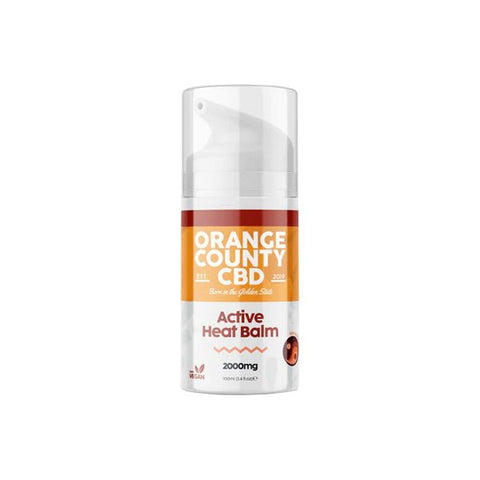 Orange County
Orange County CBD 2000mg Active Heat Balm 100ml
Looking to those muscles and joints moving whilst looking to carry on with whatever physical activities you enjoy doing? Then this Orange County CBD Activate Heat Balm is totally designed with this in mind and grant a soothing relief once applied.

Infused with 2000mg Broad Spectrum CBD, the Orange County CBD Heat Balm will will help to improve one's muscle circulation and mobility to greatly reduce soreness and stiffness. If you're hunched over your laptop at work or got a huge physical exercise on the day ahead of you, than it will make you feel once applied and absorbed more than ready to meet such challenges up ahead.
2000mg Broad Spectrum CBD
100ml Bottle
Heat Balm
Keeps Muscles & Joints Moving
100% Vegan
How to Apply:
 Just squeeze a small drop onto your fingertips and it'll react with the warmth of your skin. Then massage the affected spots gently, to let them drink up that sweet CBD nourishment.
Ingredients:
 Aqua, Menthol, Gaultheria Procumbens, Caprylic/Capric Triglyceride, Hamamelis Water, Isopropyl Myristate, Isopropyl Alcohol, Eucalyptus Globus Leaf Oil, Cannabidiol Isolate (CBD) (1000mg), Cinnamomum Camphora Bark Oil, Rosmarinus Officinalis Leaf Oil, Polysorbate 20, Carbomer, Sodium Hydroxide, Phenoxyethanol, Aloe Barbadensis Extract, Lavendula Angustifolia, Panax Ginseng Root Extract, Imidazolidiny Urea
THC content<0.2%