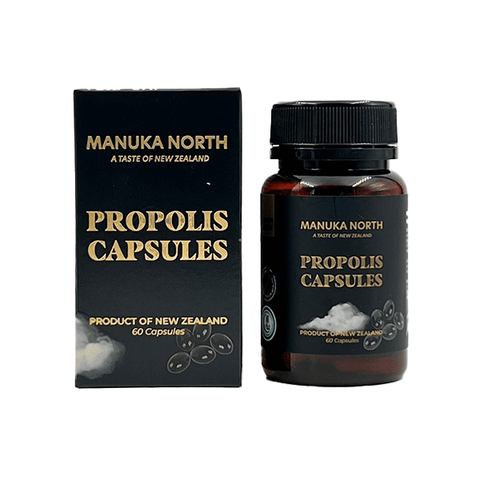 Manuka North
Manuka North Propolis Capsules - 60 Caps
Crafted with an unwavering commitment to quality, these propolis capsules are a powerful addition to your daily health regimen. Sourced from the purest New Zealand propolis, each capsule is a powerhouse of natural antioxidants, offering double the potency with 50 mg of active flavonoids. This ensures unparalleled support for your immune system, along with natural antibacterial and antifungal benefits. Extra-strength formulation designed for those seeking an enhanced care level. They offer a convenient and effective way to fortify your body's natural defences.

New Zealand Propolis

60 Capsules 

50mg Per Capsule 

Supports Immune System

Natural Antibacterial 

Antifungal benefits 
Dosage: Take two capsules daily with or without food. Store in a cool dry place below 25°C out of direct sunlight.
Warning: Propolis can cause severe allergic reactions in certain people
This product is not recommended for asthma or allergy sufferers. Not suitable for infants under 4 years old.

Ingredients: New Zealand Propolis Extract 140mg, 50mg Flavonoids, Caffeates & CAPE, Encapsulating Aids, Antioxidants, Capsule Colouring, Contains Soy Oil.