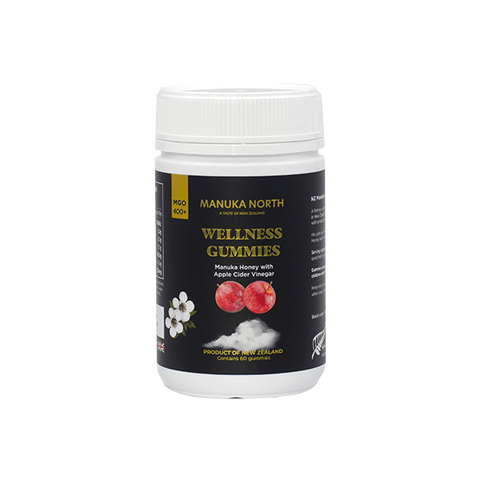 Manuka North
Manuka North Manuka Honey Apple Cider Vinegar Wellness Gummies - 60 Gummies
Indulge in the perfect pairing of Mānuka Honey and Apple Cider Vinegar with Manuka North Wellness Gummies. Each gummy is packed with nutrients, minerals, and vitamins to help boost your immunity and metabolism. Supporting your gut is key to digestive well-being and these gummies can do just that by reducing nasty pathogens like E-coli and promoting a healthy environment for good bacteria to thrive. Plus, the ACV can aid weight management by discouraging the body from storing sugars as fat. Delight in the 40% MGO400+ Manuka Honey in each gummy.
60 Gummies 
One Gummies 40% MGO400+

Apple Cider Vinegar

 

Flavour 

New Zealand Mānuka Honey

reducing sugar levels

detox your body

promote weight loss

support immune function
Dosage: 
Serving Suggestions: 2 Gummies per day, unless specified by your healthcare professional.
Gummies are a potential choking hazard. Not suitable for children under 36 months old. Keep out of direct sunlight
Ingredients: 
MGO400+ Manuka Honey (40%), Cane Sugar, Corn Syrup, Gelling Agent (Pectin), Unfiltered NZ Apple Cider Vinegar, Acid Regulator (citric acid, sodium citrate), Vegetable Oil