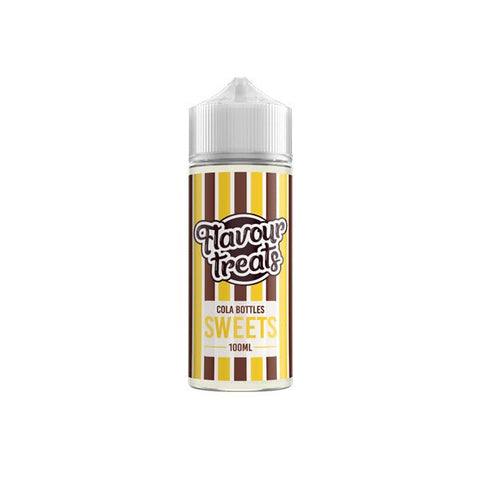 Ohm Boy
Flavour Treats Sweets by Ohm Boy 100ml Shortfill 0mg (70VG/30PG)
Flavour Treats is a brand of dessert and candy flavoured shortfills by Ohm Boy, made for the sub-ohm vaper with a bit of a sweet-tooth. Based in the UK, they work hard to ensure that they offer affordable, premium products.

- Made in the UK

- 0mg Nicotine Strength

- 100ml E-liquid Content in a 120ml Shortfill Bottle

- Space for 2 x 18mg Nicotine shots for 3mg

- 70VG/30PG

- Childproof and Tamper evident cap

- Suitable for Sub Ohm Vaping

- Recyclable Bottle

- TPD compliant
Flavours:
Blue Razz Bubble e-liquid by Flavour Treats Sweets has blended notes of blueberry and raspberry to make a candy flavoured vape reminiscent of nostalgic treats.
Fruit Pastilles e-liquid by Flavour Treats Sweets is a fruity blend of sweet notes with a subtly sour zing, for a tangy vape throughout.
Cola Bottles e-liquid by Flavour Treats Sweets took the classic confectionery flavour of cola bottles and replicated it for a bold vape with a familiar zing.
Blackjack e-liquid by Flavour Treats Sweets is an aniseed flavoured creation intended to take you back, with their recreation of the classic British candy, Blackjacks.