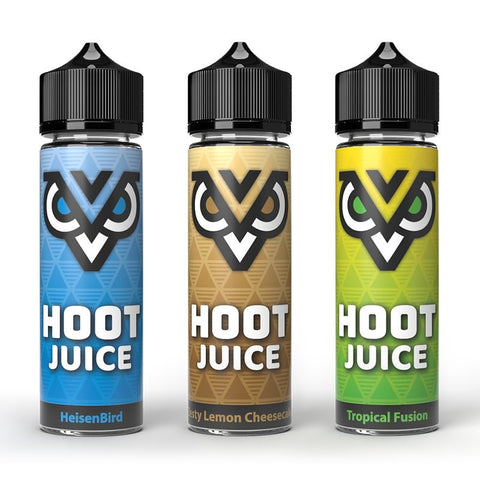 Hoot Juice
Hoot Juice 50ml Shortfill
Each delicious bottle of Hoot Juice contains 50ml of liquid in a 60ml Chubby Gorilla bottle, leaving enough room for a nicotine shot.
The bottles contains 70% VG and 30% PG which means they're suitable for most sub-ohm vape tanks. Please store at room temperature and avoid excessive heat or cold and do not leave in direct sunlight. 
There's 7 great flavours to choose from to accommodate a wide range of pallets
Zesty Lemon Cheesecake - A creamy, buttery cheesecake base drizzled in the sweetest, zesty lemons.
HeisenBird - A classic vape flavour - this mix of blueberry, menthol and aniseed is a fan favourite and is a popular choice for any vaper looking for a mouth-watering taste coupled with a refreshing, cool menthol hit.
Midnight Mango - Distinctive and powerful. If you're a mango lover then you're sure to love Midnight Mango. 
Blackcurrant Burst - A blend of juicy, ripe blackcurrants which deliver a delicious and powerful taste. 
Tangy Blue Bottles - Remember those moreish fizzy blue bottles that you used to get from the sweet shop as a kid? This delicious, fizzy and fruity bubble gum will take you on a trip down memory lane.
Tropical Fusion - A perfect fusion of fresh and juicy pineapples and grapefruits. 
Jammy D - Jam doughnut or Jammy Dodger? We'll let you decide…