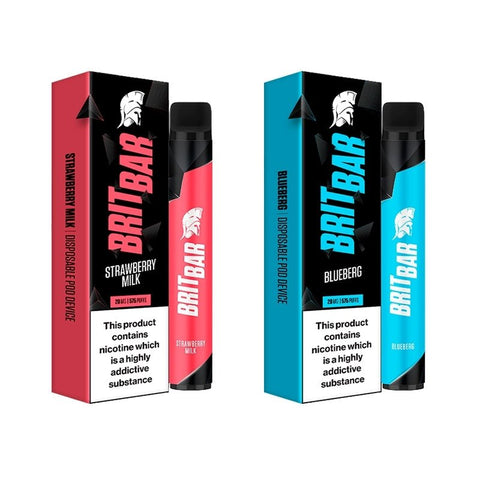 Brit Bar
Brit Bar 20mg Disposable Vape Pen
Filled with 2ml of 100% UK made 20mg nic salt e-liquid, Brit Bars feature a range of delicious and enticing flavours. Which one will be your new favourite?
Flavour List:
Apple Shisha - An authentic taste of the number 1 shisha flavour
Black Chew - A sweet homage to a childhood sweet shop favourite. Reminisce the good ol' days with Black Chew!
Black Ice - A bold, rich blackcurrant ice vaping experience - a definitive classic.
Blueberg - A delectable mix of blueberries and menthol that explodes with fruity, icy goodness. A tasty treat you don't want to miss out on!
Blueberry & Lemon Sour - A tantalising blend of sweet, juicy blueberries and zingy lemon
Cool Mint - An exhilarating rush of minty menthol - puff and stay cool!
Lemon Cake - A home-baked pastry treat that hits all the right spots. Irresistibly sweet, piquant and moist lemon cake.
M Energy - The unique flavour of your favourite energy drink - this absolute monster of a flavour is truly satisfying!
Strawberry Milk - Creamy, light and refreshing milk infused with fresh strawberries for pure bliss.
Watermelon Ice - Exotic juicy watermelon with a cooling blast.