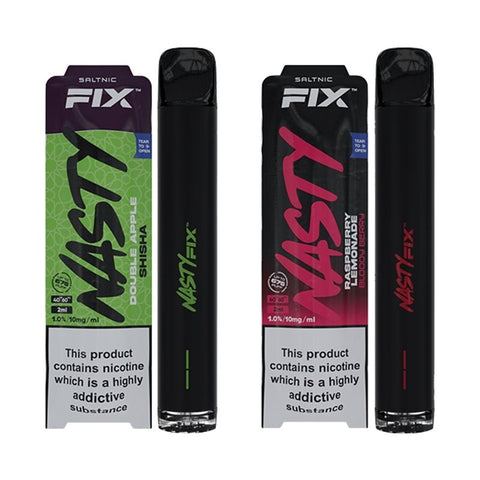 Nasty Juice
Nasty Juice Air Fix Disposable Vape Pen
Nasty Air Fix is a revolutionary disposable vape pen made by Nasty Juice, with a built-in 700 mAh battery pre-charged and ready to go. Just remove the safety seals and you're ready to vape!
The ultra-convenient adjustable airflow system ensures a highly satisfying, customised vape experience. Just choose your setting by twisting the end, and enjoy your ideal throat hit and flavour intensity!
Best of all, Nasty Air Fix is now available in both 10 mg and 20 mg nicotine strengths to cater for all users of salt-based nicotine.
Flavour List:
ASAP Grape - Packed with sweet and sugary black grapes and a hint of berries which will leave your mouth watering!
Blackcurrant Cotton Candy - An intense blend of blackcurrant and a soft touch of cotton candy for an extra sweet touch. This flavour originates from the very popular Bad Blood flavour by Nasty Juice.
Bloody Berry - A pleasurable taste of berry mixed up with lemon to give a sweet acrid jolt. Once you inhale the berry flavour it's a dazzlingly haunting exhale!
Cushman Mango - A delicious blend of juicy mangoes, a real tropical sensation.
Cushman Banana - A mixture of Mango and Banana which creates an exclusive taste that will definitely blow your mind!
Double Apple - You like apples right? Well here's a double dose of them!
Menthol - A simple refreshing blast of menthol.
Sicko Blue (Blue Raspberry) - Experience the taste of fresh raspberries plucked right off the vine and popped straight into your mouth. 
Slow Blow (Pineapple Lemonade) - A unqiue blend of pineapple and zesty lime soda. You'll soon see why this is a Nasty Juice superstar.
Trap Queen (Strawberry) - You'll be thrilled with the freshness and the sweetness of the fruit and it will make you feel like you're tasting the strawberry you've freshly picked yourself. Strawberry with a touch of mint.
Vanilla Tobacco - Cured tobacco infused with rich and flavourful vanilla. A really pleasing smokey-sweet experience.
Watermelon Ice - Juicy, fresh watermelons topped with ice.
Wicked Haze (Blackcurrant Lemonade) - Taste the blackcurrant when you inhale and the lemonade when you exhale, you will definitely be impressed. Blackcurrant with lemonade soda.