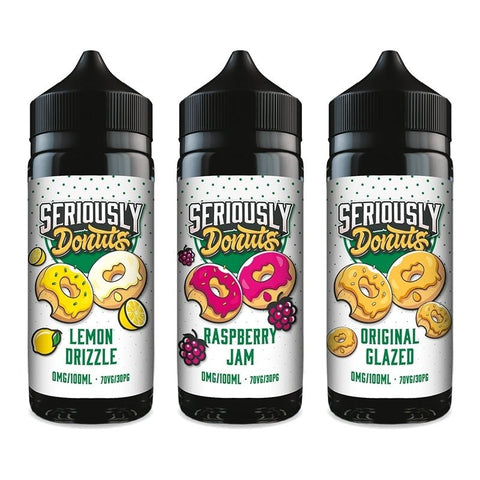 Doozy Vape Co
Seriously Donuts 100ml Shortfill
A range of delicious glazed donut flavoured 100ml shortfills by Doozy Vape Co.
70% VG / 30% PG
Flavour List:
Apple Fritter - Deliciously soft and airy dough, filled with a caramelised apple centre and topped with a sugar-glazed coating.
Glazed Biscoff - A tasty tea time treat. Donut infused with crumbs of Biscoff topped with a sugar glaze.
Lemon Drizzle - Scrumptiously soft and fluffy donut dough, drizzled with frosted lemon icing with a sweet zesty centre.
Original Glazed - The unmistakeable taste of a timeless classic. Donuts dipped in a deliciously rich sugary syrup.
Raspberry Jam - Gorgeously sweet raspberry jam oozing from the centre creates a fruity layer between each bite!
Strawberry & Cream - Everyone's favourite combination of thick, luscious cream and sweet strawberries.