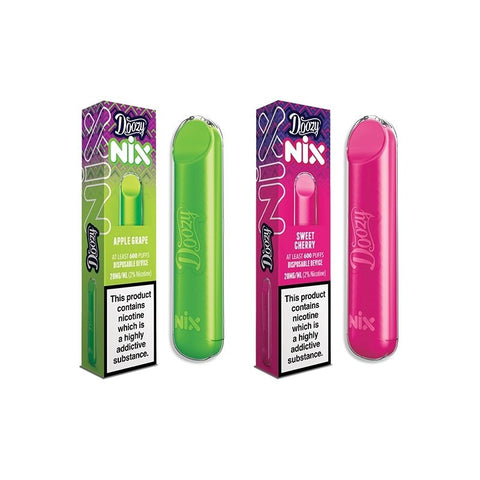 Doozy Vape Co
Doozy Nix Disposable Vape Pen
Doozy Nix is a simple vaping device designed to be used by novice Vapers who are just starting to vape or have quit smoking to more experienced Vapers who are just looking for a vape device without the need to change coils or fill a tank with liquid.
No matter which type of Vaper you are, Doozy Nix is the perfect device to help keep you from smoking cigarettes.
Key Features:
Pre-filled with 2ml nic salts per pen
Non-replaceable coil
50/50 PG/VG
Flavour List:
Apple Grape - A juicy mix of grapes and crisp green apples with a hint of ice
Fantasia Grape - A tasty concoction of green and purple grapes with a hint of ice
Lime Cola - Thirst quenching cola with a splash of zesty lime on the rocks
Mango Strawberry - Succulent mango cubes and sweet strawberries with a hint of ice
Mixed Berries - A burst of juicy berries with a tangy edge and a touch of ice
Pineapple Berry - A lush combination of sweet pineapple chunks and blue raspberry with a hint of ice
Pink Lemonade - A tangy mix of citrus fruits with a fizzy twist and a cool edge
Red Wing - The distinct taste of everyone's favourite energy drink. a refreshingly cool taste that is unmistakable!
Strawberry Milk - The most luxuriously smooth and creamy strawberry milkshake you have ever tasted with a light touch of ice
Sweet Cherry - An explosion of juicy cherries wrapped in sweet cotton candy and a hint of ice