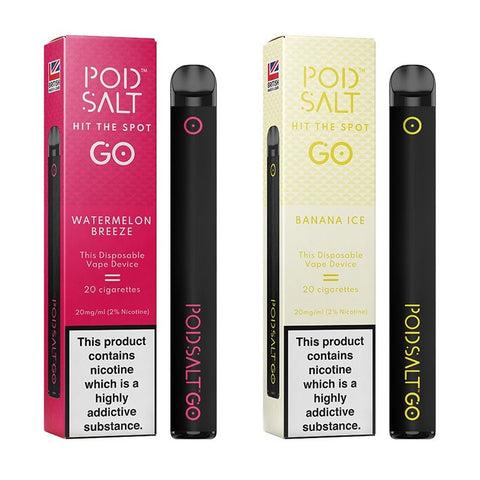 Pod Salt
Pod Salt GO 20mg Disposable Vape Pen
A collection of the most popular flavours from the Pod Salt range (as well as some new arrivals) presented in a sleek and stylish disposable vape pen.
With no messy refilling, and no buttons to press (just "vape and go") vaping really doesn't get any easier!
FEATURES
Built-in battery
Non-refillable
Non-rechargeable
Contains 2ml of 20mg nic salt
Stylish & discreet design
FLAVOURS
Banana Ice - Sweet and creamy banana with a fresh icy combo
Blue Ice - Super-juicy blueberries with an added burst of menthol coolness. A perfect summer treat!
Blue Raspberry - A candy-inspired flavour that's sweet, tangy and bursting with flavour
Cuban Creme - The taste of a hand-made cigar with an earthy, woody and sharp aroma with hints of sweet vanilla crème
Double Apple - Sweet apples from two classic varieties for a superior bittersweet taste
Fresh Mint - Cool and refreshing mint leaves
Lychee Ice - Refreshing lychee fruit given a cool, icy twist.
Mango Ice - A refreshing blend of mango fruit flavours with ice menthol
Mixed Berries Ice - A refreshing forest fruit mix of strawberry, raspberry and blueberry with a cool ice blast
Watermelon Breeze - This combination of refreshing watermelon with an icy breeze makes for a cool and unforgettable experience