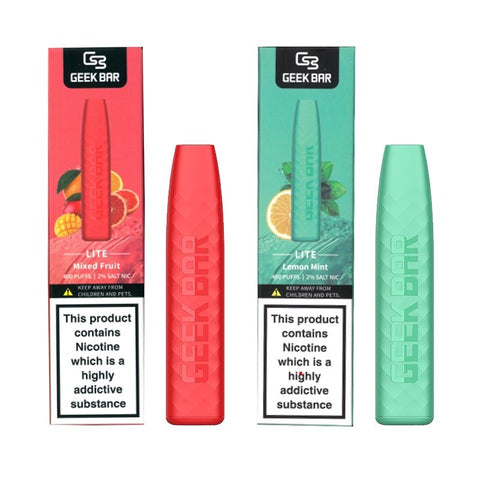 Geekvape
Geekvape Geek Bar LITE 20mg Disposable Vape Pen
Whether you're completely new to vaping or a seasoned veteran, the Geek Bar Lite is sure to hit the spot.
There are no buttons to press and no messy refilling - the Geek Bar Lite is pre-filled with 1.8ml of delicious nic salt vape juice, so simply inhale from the mouthpiece and away you go!
KEY FEATURES

Built-in battery
Non-refillable
Non-rechargeable
Contains 1.8ml e-liquid
Stylish & comfortable design
FLAVOURS
Banana Smoothie - A sweet and creamy banana blend
Blueberry - Classic, juicy blueberries - a timeless favourite
Grape Raspberry - Green grapes and ripe raspberries, bursting with fruity flavour.
Green Apple - Tart but sweet - you can almost taste the crunch!
Lemon Mint - A perfect balance between the sharp zinginess of a lemon and the cool refreshment of mint
Lush Ice - Refreshing watermelon topped with ice.
Mango Strawberry - Juicy, ripe mango blended with sweet Summer strawberries
Mixed Fruit - A delightful mix of forest favourites including blackberry, blueberry and raspberry
Passion Fruit - The exotic taste of perfectly ripe and zingy passion fruit. Totally tropical!
Peach - Simply sweet peaches.