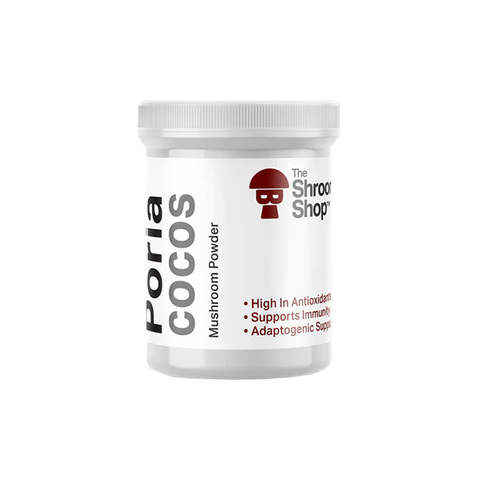 The Shroom Shop
The Shroom Shop Poria Cocos 90000mg Powder
Introducing The Shroom Shop's Poria Cocos Extract, a natural powerhouse that enhances your well-being. Packed with high levels of antioxidants, it offers potent protection against harmful free radicals, promoting cellular health and rejuvenation. With its immune-supporting properties, this supplement strengthens your body's defences, helping you stay resilient and healthy.

But that's not all—Poria Cocos also provides adaptogenic support, assisting your body in adapting to stress and maintaining balance in times of pressure. Experience the transformative benefits of The Shroom Shop's Poria Cocos Powder and unlock your body's true potential. Embrace natural vitality and elevate your overall wellness today.
90,000mg of Active Pure Poria Cocos Mushroom Extract
60 x 1500mg Servings
High In Antioxidants
Supports Immunity
Adaptogenic Support
Approx. 2 Months Supply
Add To Any Food/Drink With Scoop
Ingredients:
 Poria Cocos Mushroom Extract, (30% Polysaccharides).