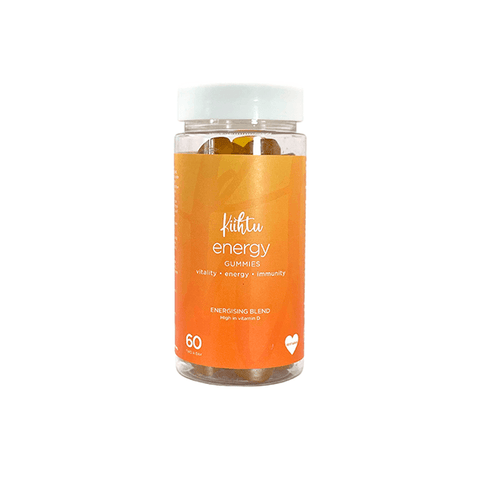 Kiihtu
Kiihtu Energy Gummies - 60 Pieces
Supercharge your day with the power-packed and delicious mango-flavoured Energy Gummies. It is packed with 11 energy-boosting daily essentials carefully chosen to support metabolism, red blood cell production, and immunity.
Metabolism, which is the process of turning your food into energy, receives aid from Vitamins A, D, E, B6, B12, along with Biotin and Pantothenic Acid for additional support. Riboflavin and Folic Acid are included to help with red blood cell production—the cells responsible for transporting oxygen throughout your body. Lastly, Vitamin C and Zinc are added to boost your immune system and keep those energy-zapping bugs in check.
GMP
GMO-Free
Vegetarian Friendly
Nutritional Information:
Typical Values Per 2 Gummies %NRV*
Vitamin A 800μg 100
Vitamin D 10μg 200
Vitamin E 12mg a-TE 100
Vitamin C 80mg 100
Riboflavin 0.2mg 14
Pantothenic Acid 6mg 100
Vitamin B6 1.4mg 100
Vitamin B12 2.5μg 100
Folic Acid 200μg 100
Biotin 50μg 100
Zinc 3mg 30
INGREDIENTS: Glucose Syrup, Sucrose, Vitamin C (L-Ascorbic Acid), Gelling Agent (Pectin), Acids (Citric Acid, Malic Acid), Apple Juice Concentrate, Orange Juice Concentrate, Acidity Regulator (Sodium Citrate), Flavours (Natural Mango Flavouring, Natural Orange Flavouring, Natural Lemon Flavouring), Vitamin E (D-Alpha-Tocopheryl Acetate), Pantothenic Acid, Zinc Citrate, Glazing Agents (Vegetable Oil (Coconut Oil, Canola Oil), Carnauba Wax), Sequestrant (Sodium Hexametosphate), Vitamin B12 (Cyanocobalamin), Vitamin A (Retinyl Palmitate), Vitamin B6 (Pyridoxine Hydrochloride), Curcumin, Vitamin D3 (Cholecalciferol), Folic Acid, Riboflavin, Biotin. 
ALLERGENS: Made in a facility that also handles Crustaceans, Fish, Gluten, Milk and Soy