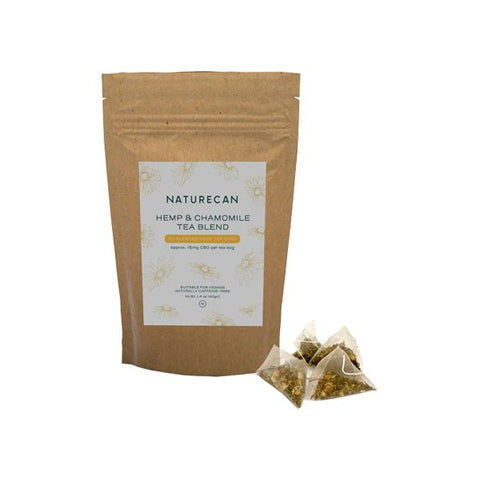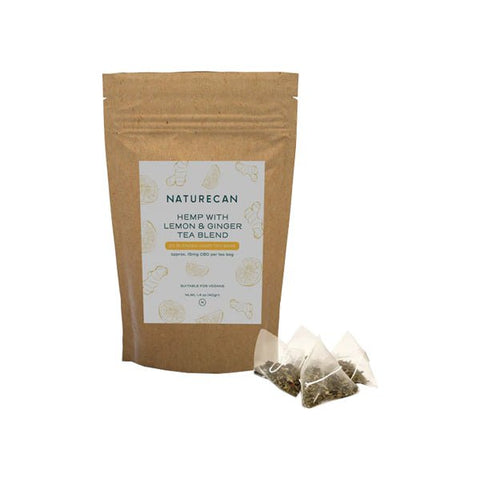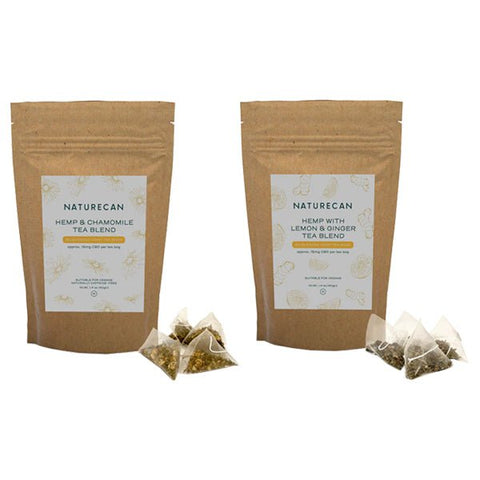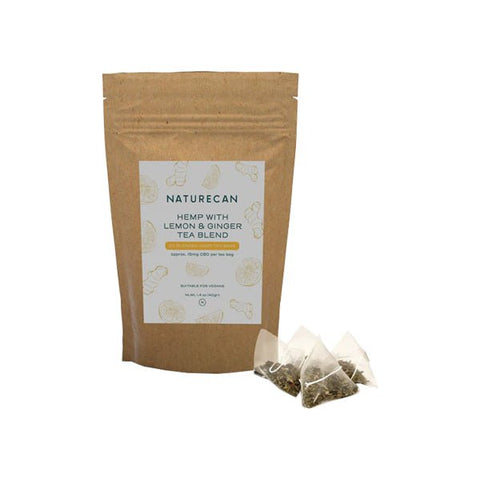 Naturecan
Naturecan 300mg CBD Hemp Tea - 20 Bags
Whether you need a refreshing start to your day or you want to unwind throughout your night-time routine, Naturecan have you covered with their Hemp, Lemon & Ginger Tea, or Hemp & Camomile Tea to refresh your senses this season. Both Hemp Tea Bags contain 15mg CBD per bag, with non-detectable THC (<0.01%). This allows you to gain the potential benefits of CBD in a delicious drink you can enjoy at whatever time suits you best. Hemp Tea has been studied with results indicating that it may help to reduce anxiety and assist with improving your sleep cycle.

Naturecan offers an exclusive and extensive range of high quality health supplements. All of their products are created using industry-leading technology and undergo rigorous testing practices with third parties in order to ensure product quality, customer safety and supply chain transparency.
Made In The UK
15mg CBD Per Serving - Stronger Than Most Competitor Brands
Contains 20 Hemp Tea Bags
Caffeine Free (Only Hemp & Chamomile Flavour)
Chamomile Has Potential Relaxing properties
Suitable For Vegans
Third Party Lab Tested
Zero THC (<0.01%)
How To Take: Grab your favourite cup or mug, bring water to a rolling boil and immediately pour over your tea bag. Make sure to steep for a good 3-5 minutes. Make sure to not rush this process! It really does take the full time to release the tea's delicious flavour. As Naturecan's Hemp Tea contains 15mg CBD per pouch. If it's your first time trying a CBD product, we recommend starting off with one Hemp Tea per day, at whatever time suits your needs best. For example, you could start with taking Hemp Tea at night-time before bed. If you continue this for a week and stop feeling the potential benefits of CBD, you can add an additional drink in the morning or midday to increase your CBD Dosage.

Flavours:
Hemp & Camomile
Best Time To Drink: Best before bed.

Ingredients: Hemp (50%), Whole Chamomile Flower (50%).

Hemp With Lemon & Ginger
Best Time To Drink: Early to mid-morning.

Ingredients: Hemp (50%), Peppermint, Ginger (8%), Liquorice, Lemon Granulate Peel (5%), Greenmate, Ground Cinnamon Cassia, Black Pepper.
THC content<0.2%