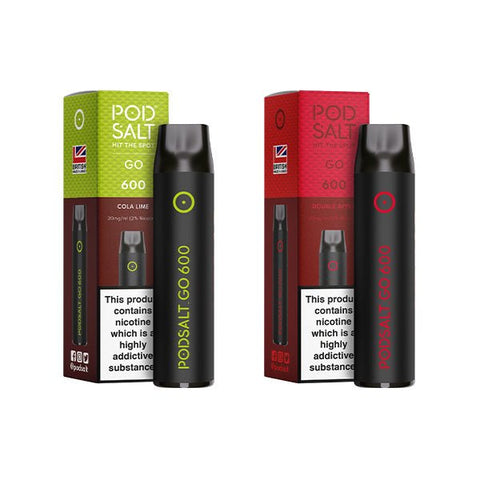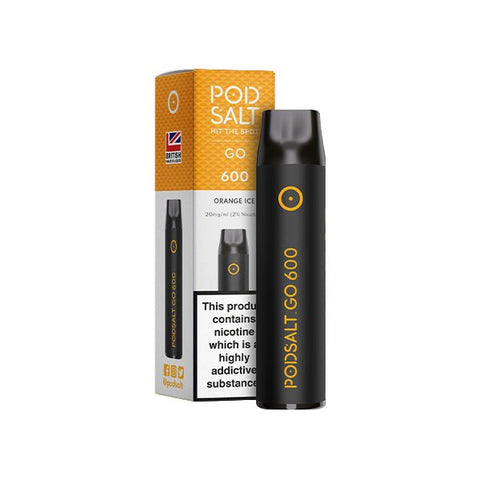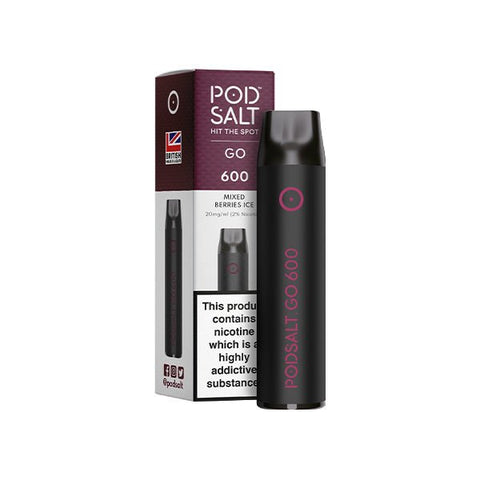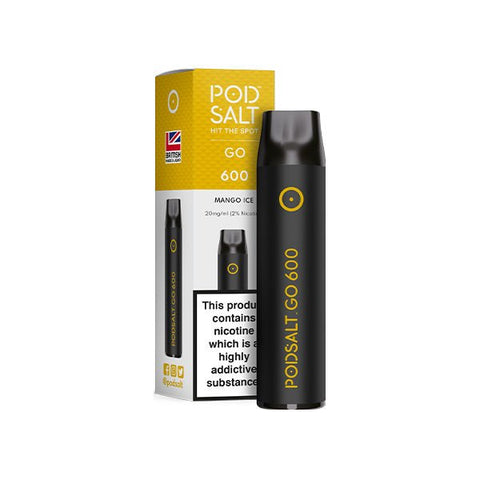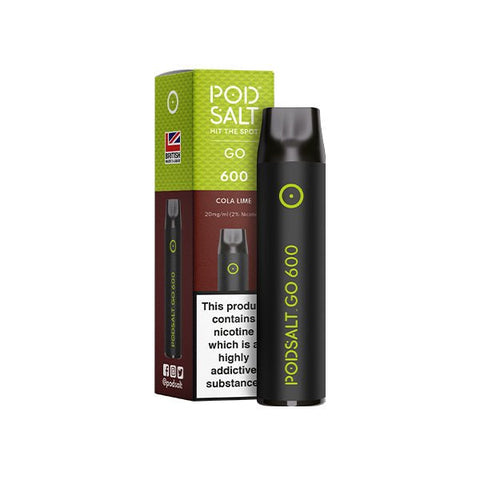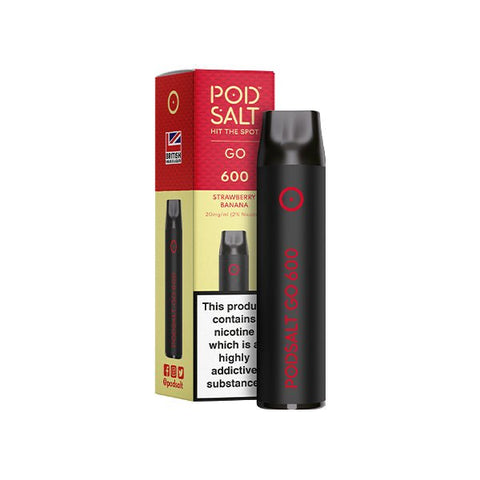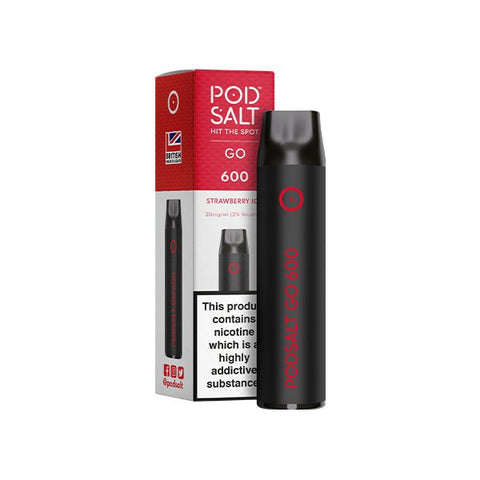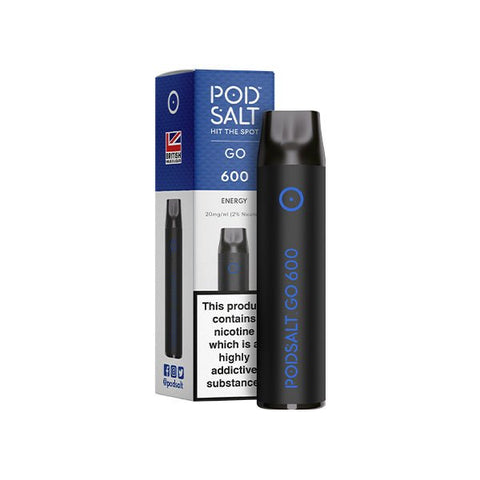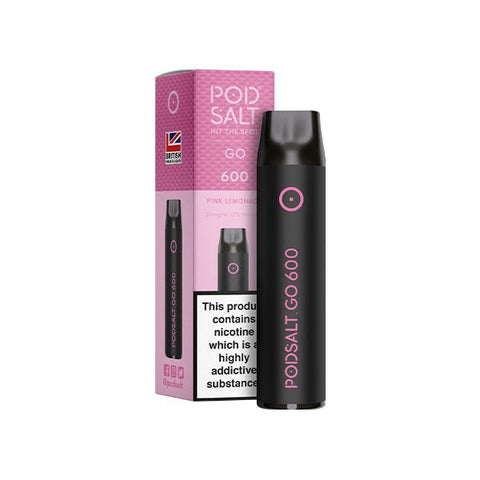 Pod Salt
20mg Pod Salt Go 600 Disposable Vape Device 600 Puffs
Designed for those who greatly enjoy vaping on the go, the Pod Salt Go 600 Disposable Vape Device is both slim and stylish with a stellar range of unique flavours to vape with.

By utilizing the latest technology, Pod Salt Go has a powerful 400mAh battery that provides 600 puffs in every device, meaning you can vape and go for longer. The LED light will indicate how much you've used. The duckbill shaped, PTCG eco friendly mouth piece will perfectly match your lips before you puff. Within each Podsalt Go 600 flavour, they are pre-filled with 2ml of their award-winning Nicotine Salt. In addition, the latest cotton material will grant you the ultimate in experienced Pod Salt vapes.

As with disposables, all you need to do once they're used is simply throw them away. There is no need to refill or recharge it during use.
Free CDU Available on orders over 70 units
Specifications:

20mg Nicotine Salt (2%) E-Liquid
Capacity: 2.0ml
Puffs: Up to 600 Puffs
Battery Capacity: 400mAh
Draw Activation Duck Billed Mouthpiece
Ready to Use
No Refills & Charging
Portable & Lightweight Design
LED Light Indicator
Cotton Material
Box Contains:
1 x Pod Salt GO 600 Disposable Vape Device
Flavours:
Grape Ice
Deliciously sweet and fruity fresh, taste an array of grape flavours. Offers a slightly tangy edge finished with a cool ice blast.
Banana Ice
A classic, creamy banana flavour that brings gentle sweetness to this vape, kept refreshing with an icy edge.
Double Apple
Combining red and green apples creates a crisp and sweet blend of fresh apple flavours. Double the apple, double the enjoyment.
Cola Lime
A familiar beverage flavour, enjoy refreshing, sweet cola with a zingy lime twist. Perfect for all day vaping.
Blue Ice
Bursting with fresh blueberries for a delicate sweetness, highlighted by a tangy, bittersweet edge. Finished with a cool ice blast.
Orange Ice
A perfectly citrus flavour blending sweet and juicy orange tones with an icy finish to bring out the citrus tart punch. A great all day vape.
Strawberry Ice
Full of fresh, sweet strawberry flavours, it delivers a delightfully refreshing vape highlighted with an ice blast.
Energy
Reminiscent of your favourite energy drink, feel instantly refreshed by this blend of flavours including tangy citrus.
Mixed Berries Ice
A super sweet medley of fresh berry flavours with a hint of tartness, made by combining strawberries, blueberries, and blackcurrants. Highlighted with an ice blast.
Strawberry Banana
A nostalgia-inducing flavour combining sweet and creamy bananas, with juicy strawberry bursts that compliment.
Pink Lemonade
Combines the delicious sweetness of red berries and the citrus zing of fresh lemonade for a deliciously refreshing vape.
Mango Ice
Enjoy the mellow sweetness of ripe mango fruit with an ice cool finish for a truly enjoyable, exotic-inspired vape.