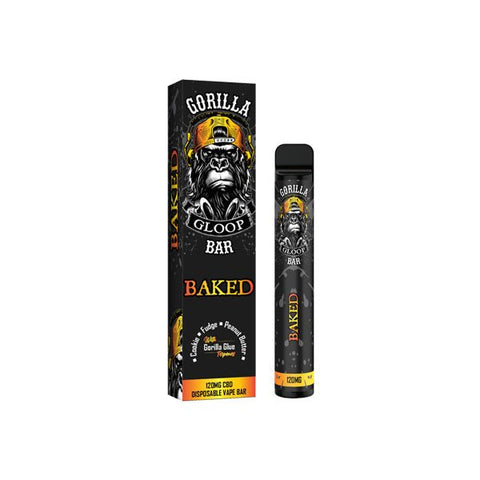 Gorilla Gloop
Gorilla Gloop Bar 120mg CBD Disposable Vape Device 600 Puffs
The Gorilla Gloop Bar combines the best of disposable vaping along with CBD vaping as well. Pre-filled with 2ml of quality 99.9% CBD isolate and terpenes, this is an inventive and ideal way to intake CBD. As a range of five flavour, each Gorilla Gloop Bar can last up to 600 puffs and boast 120mg CBD strength.
Made in the UK
120mg CBD Isolate
Capacity: 2ml
Up to 600 Puffs
Gorilla Gloop Terpenes
Instant Use Straight From The Box
Flavours:
Baked:
 A scrumptious blending of chocolate cookie with fudge pieces and decadent peanut butter all infused with Gorilla Gloop terpenes.
Blazed:
 Infused with Gorilla Gloop terpenes, this is a succulent blend of buttery oat and honey crumble that tops apple dripped in creamy custard.
Blitzed:
 Glazed Danish backed with cinnamon and pecan pieces infused with Gorilla Gloop Terpenes.
Brain Mash:
 Blending together with oven fresh baked sugar donut with delightful strawberry ice cream that's all infused with Gorilla Gloop terpenes.
Flyin High:
 Sticky maple syrup that tops a rich, lovely creamy tart infused with Gorilla Gloop terpenes.
Ingredients:
 99.9% CBD Isolate & Terpenes
THC Content<0.2%