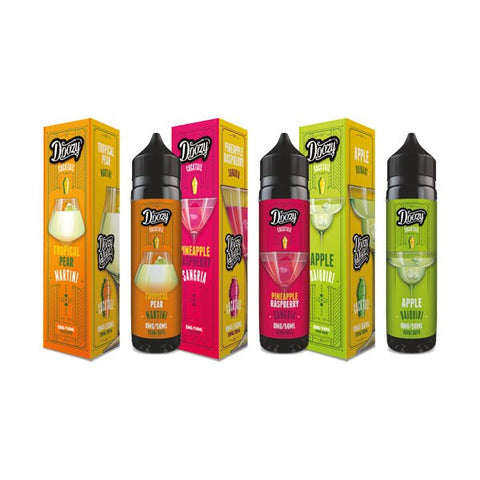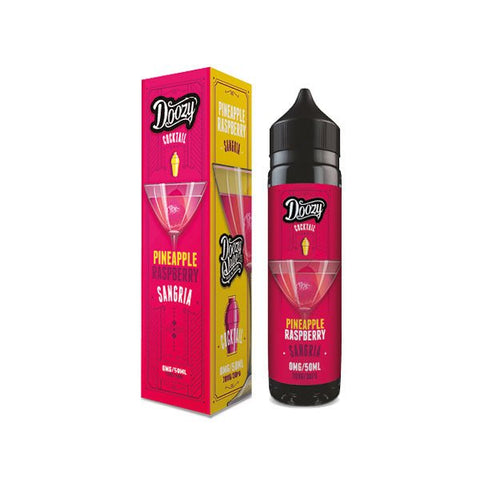 Doozy Vape Co
Doozy Cocktail 50ml Shortfill 0mg (70VG/30PG)
- Made in the UK

- 0mg Nicotine Strength

- 50ml E-liquid Content in a 60ml Shortfill Bottle

- Space for 1 x 18mg Nicotine shot for 3mg

- 70VG/30PG

- Childproof and Tamper evident cap

- Suitable for Sub Ohm Vaping

- Recyclable Bottle

- TPD compliant
Flavours:
Apple Daiquiri
Apple Daiquiri is everyone's favourite Cuban Cocktail with a twist.. A daring yet satisfying combination of Apple Slush with an Icy Tingle which makes for a Thirst-Quenching vape!

Mango Lime Bellini
Juicy Mango Pulp with Freshly Squeezed Lime on the rocks. Experience the taste of Paradise with Mango Lime Bellini. 

Raspberry Sangria
Pineapple Raspberry Sangria is based on the famous Spanish Cocktail, Doozy's Sangria is a unique Fruit Punch created from juicy Wild Raspberries drenched in Pineapple Juice to create the perfect Cocktail combination.

Tropical Pear Martini
Tropical Pear Martini is a modern take on the Classic Italian Cocktail. A sophisticated combination of Succulent Pears infused with Pineapple Chunks and a Slice of Kiwi to compliment this Tropical Mix.