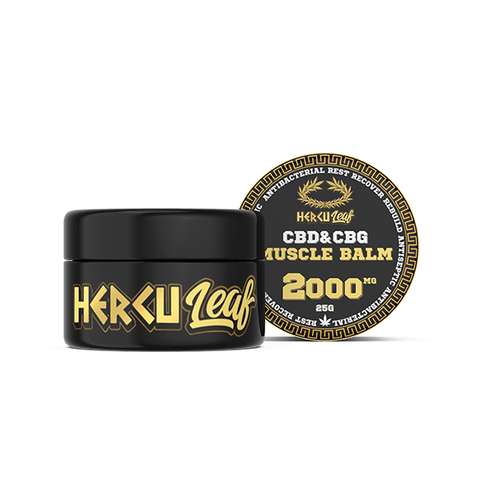 HercuLeaf
HercuLeaf 2000mg CBD & CBG Muscle Balm - 25ml
This high percentage CBD and CBG balm has been designed to relieve your aches and pains. HercuLeaf  understand that everyday life can cause discomfort. They want to help you. That's why they have formulated our all-natural relief balm to help target the desired sore areas. Experience the warm/cool sensation this balm can provide you in return soothing those aches and pains and reducing inflammation.
25g
2000mg
Lab Tested
THC Free
Directions
Apply a thin layer onto the required muscular areas. Rub into the skin for at least 2minutes to ensure the balm has soaked into the skin. Wash hands after use.
Caution
For external use only. Avoid contact with eyes. If product gets into the eyes rinse well with water immediately.
Ingredients
CBD Isolate, CBG Isolate, Cocoa Butter, Candelilla Wax, Olive Extra Virgin Carrier Oil, Eucalyptus, Cajeput, Spearmint, Wintergreen, Peppermint, Vitamin E, Lemongrass, Camphor, Turmeric, Oregano, Menthol Crystals, Methyl Salicylate.