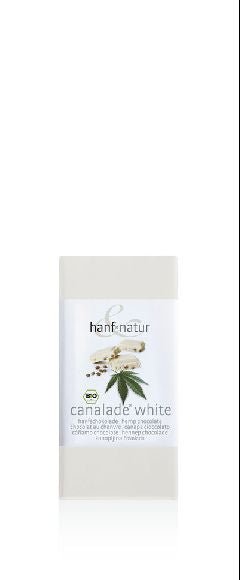 Hanf & Natur
Hanf & Natur Hemp White Chocolate
This organic chocolate is created by gently roasting organic hemp seeds to release a subtle flavour and then enveloping them in rich white milk chocolate.
We all know that Hanf Natur's Organic Hemp is rich in vital nutrients, vitamins, minerals and amino acids so this chocolate is not only a well deserved treat but is also good for you as it provides all the goodness of hemp. All the ingredients are completely organic and resuylt in a premium product. For purely Organic Hemp Food choose Hanf Natur.
Ingredients: raw cane sugar, cocoabutter, whole milk powder, 10% spiced hemp seeds (hempseeds, raw cane sugar, chili, curry, paprika, pepper, salt), yoghurt powder, bourbon vanilla extract, cocoa solids 29% min. May contain traces of nuts and wheat components.
100g.