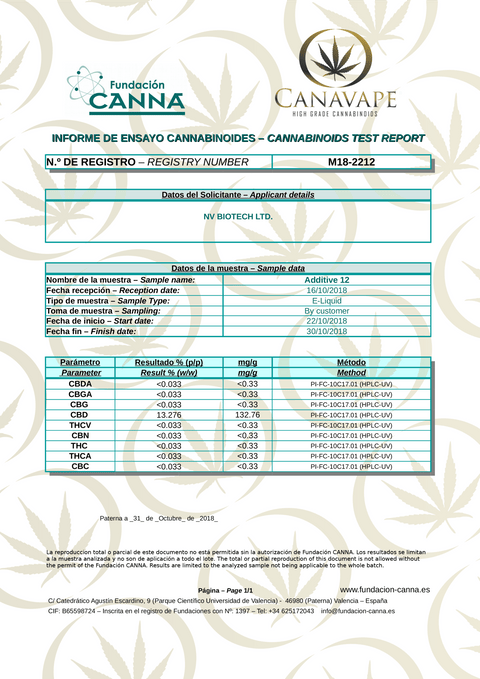 Canavape
Canavape CBD Additive - 1,200mg - 10ml
Canavape® CBD Additive is made using our industry leading pure CBD and packs a whopping 600MG+ of unrivalled purity CBD into a UV proof thin tipped plastic bottle for you to add to other e-liquids, balms, cosmetics or whatever you like!
This CBD vape additive is made using 100% PG (propylene glycol) which is a used in most e-liquids and also an extremely common ingredient in most cosmetic products. For DIY e-liquids, just add this CBD Additive into your PG quota. Canavape® CBD vape additive offers a cost effective way to add CBD to your daily vape.
Most regular e-liquid manufacturers now offer 50ml of your favourite flavour in a 60ml bottle (short-fill bottles) that are perfect for combining this Canavape® CBD Additive - transforming your e-liquid into a CBD vape with at least 10mg per 1ml of e-liquid.
Each and every Canavape® bottle is hand crafted and manufactured at their on site ISO-7 certified laboratory, in the heart of London, by an expert with many years of experience. This ensures complete quality control over the cannabinoid products they produce - enabling them to offer you the most effective, highest quality cannabinoid e-liquids on the market.
Our vape additives are intended for use with 50:50 ratio e liquids.
Key Features
10ml UV proof thin tipped plastic bottle
Minimum of 1200mg of pure CBD per bottle
Made with pure CBD with unrivalled purity
0% THC and free from residues, waxes and impurities
Developed using pharmaceutical grade carrier ingredients
Safely manufactured in an ISO-7 certified laboratory
Laboratory tested for purity with certificate of analysis
Formulated for use in all electronic cigarettes
Contains No Nicotine