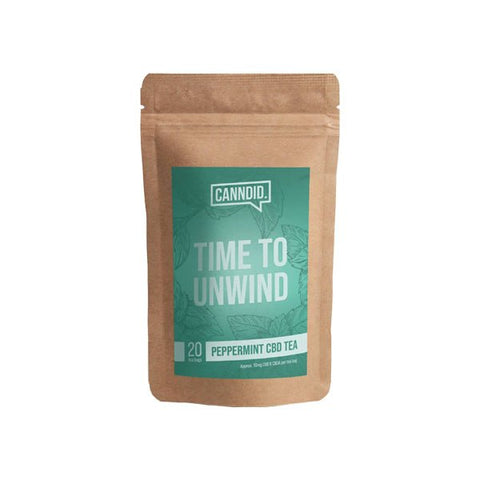 Canndid
Canndid 200mg CBD Peppermint Tea Bags - 20 Bags
Novel Food application number: RP427
Peppermint tea is one of the most popular herbal teas – and we can certainly see why! Peppermint has been used for many years as it's believed to help with digestion and relaxation. Its invigorating smell and taste is a feast for the senses and makes for the perfect after-dinner tea.
Canndid have created a unique blend of peppermint and hemp tea so that you can enjoy all of the benefits both herbs have to offer.
- 20 tea bags per pack
- Approx 10mg CBD & CBDA per tea bag
- Less than 0.2% THC
Directions of Use:
 Allow to steep for 5-10 minutes in a cup with freshly boiled water. Allowing the tea bag to steep for longer will produce a stronger taste. Store in a cool, dry location.
Not to be used during pregnancy or lactation. If you have a medical condition or take pharmaceutical drugs, please consult your physician before use. Keep out of reach from children.
Ingredients:
 Peppermint Leaves, Lemon Pieces, Hemp.
THC content<0.2%