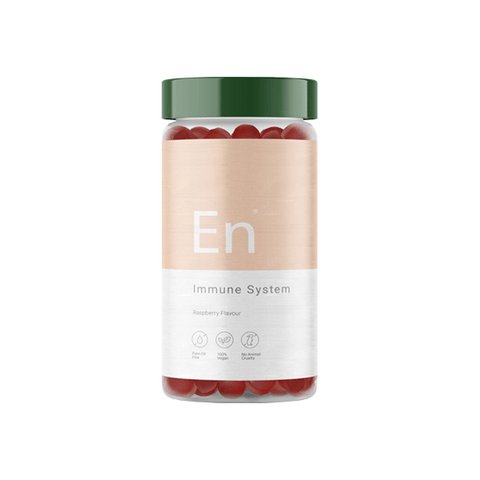 27 Elements
27 Elements Nutrition Immune System Booster Gummies - 2 Months Supply
Boost your immune system with 27 Elements powerful Immune System Booster Gummies! Formulated with a potent blend of immune-supporting ingredients, they help fortify your body's natural defences, keeping you healthy and resilient.
The Elements Nutrition gummies provide comprehensive immune support, targeting key aspects of immune function. From antioxidants that combat free radicals to vitamins and minerals that nourish immune cells, our gummies offer a holistic approach to immune system optimization.
Developed by a leading UK nutritionist, 27 Elements Immune System Booster Gummies surpass global manufacturing standards. Produced with utmost quality control, adhering to GMP & BRC guidelines. Free from artificial preservatives, gluten, GMOs, gelatine, and palm oil. Indulge in the pure goodness you deserve.
Natural Raspberry

100% Vegan
Palm Oil Free
GMO Free
Soy Free
Nut Free
No Artificial Colours
Diary Free
Gluten Free
No Artificial Preservatives
Nutritional Information:
Vitamin C: 1600mg (200% NRV)
Vitamin B6: 0.6mg (42% NRV)
Zinc: 4mg (40% NRV)
Selenium: 22μg (40% NRV)
Instructions: For adults take one (1) gummy daily, with or without a meal.
Ingredients: Glucose Syrup, Sucrose, Vitamin C (L-Ascorbic Acid), Concentrate (Apple Juice, Black Carrot), Gelling Agent (Pectin), Acid (Citric Acid), Acidity Regulator (Sodium Citrate), Flavour (Natural Raspberry Flavouring, Natural Strawberry Flavouring), Zinc Citrate, Selenium, Glazing Agents (Vegetable Oil (Coconut Oil, Canola Oil), Canauba Wax), Vitamin B6 (Pyridoxine).