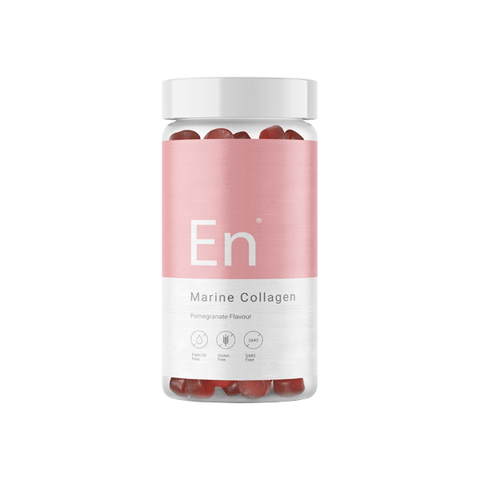 27 Elements
27 Elements Marine Collagen Gummies - 2 Months Supply
Experience pure delight with 27 Elements marine collagen gummies! Indulge in the luscious pomegranate flavour that tantalizes your taste buds. 27 Elements hydrolyzed marine collagen is free from artificial colors, preservatives, and is NON-GMO.
27 Elements Collagen Gummies are expertly formulated to promote youthful, radiant skin. With a potent blend of collagen peptides, they support skin elasticity, reducing the appearance of wrinkles and fine lines.
27 Elements Biotin Gummies exceed the competition. Every ingredient undergoes rigorous batch and independent third-party lab testing, ensuring allergen-free, heavy metals-free, and contaminant-free goodness. Rest easy with 27 Elements unwavering commitment to the highest production standards.
Natural Pomegranate

Palm Oil Free
GMO Free
Soy Free
Nut Free
Diary Free
No Artificial Preservatives
No Artificial Colours
Nutritional Information:
Vitamin A: 1200μg (150% NRV)
Vitamin C: 80mg (100% NRV)
Marine Collagen: 1,500mg
instructions: For adults take one (1) gummy daily, with or without a meal.
Ingredients: Glucose Syrup, Sucrose, Marine Collagen Fish, Concentrates (Pomegranate Juice, Black CarrotJuice), Beef Gelatine, Vitamin C, Sweetener (Sorbitol), Natural Flavouring, Gelling Agent (Agar), Acidity Regulator (Citric Acid), Antioxidant (Alpha-Tocopherol), Vegetable Oils (Coconut, Canola), Vitamin A, Glazing Agent (Carnauba Wax).