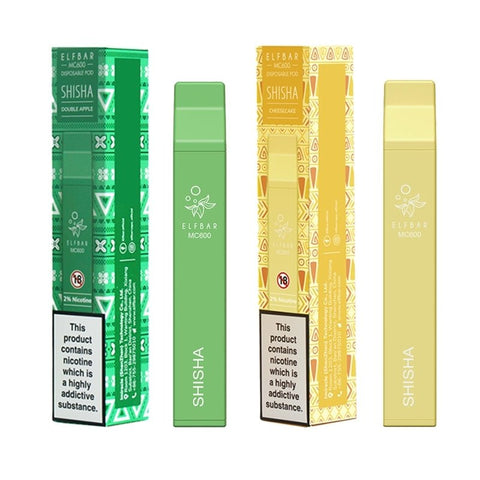 Elf Bar
Elf Bar Shisha MC600 Disposable Vape Pen
Elf Bar MC600 disposable shisha vape pens capture the taste of shisha in every puff! A wide range of fruit flavours are on offer and feature 20mg nic salt e-liquid for a smoother throat hit.
They're small enough to fit in your pocket and take everywhere, and with no messy refilling, no coils to change and no need to recharge, these disposable vape pens offer ultimate convenience!
FLAVOUR LIST
Blueberry - Fresh and juicy blueberries
Bubble Gum - A confectionary blend capturing delicious notes of bubble gum
Cheesecake - A deliciously dessert-inspired shisha flavour
Cherry - Bursting with sweet, fruity richness. One taste and we know you'll be back for more!
Cola - The classic sweet taste of cola
Double Apple - An intensely fruity blend of red and green apples
Elfbull - Inspired by the delicious energetic drinks
Grape - Freshly-squeezed red grapes with just the perfect amount of sweetness.
Green Apple - Crisp green apples - deliciously refreshing.
Mango - Juicy, ripe mangoes
Strawberry Ice - Juicy strawberries with a refreshing touch of ice.
Watermelon - Exotic juicy watermelon