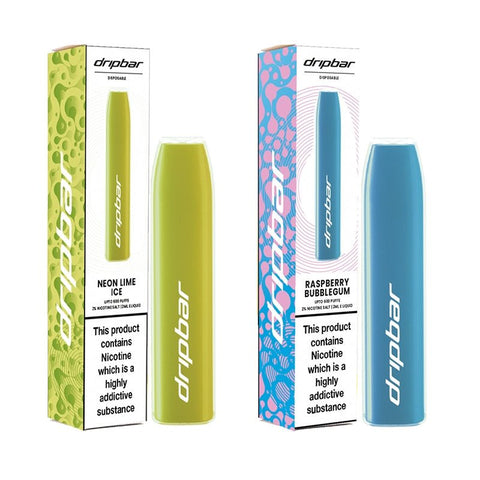 Liqua Vape
Drip Bar by Slushie - Disposable Vape Pen
Disposable vape pens in a range of delicious flavours from the makers of Slushie.
Contains 2ml of 20mg nicotine salt e-liquid.
Black Cherry Raspberry - A sweet and tangy blend of black cherries and raspberries.
Black Cherry Strawberry - A delightful fruit infusion of 2 Summer favourites.
Grapefruit Lemonade - Sweet, tart and just a little bitter all at the same time - don't miss this blast of citrus flavour!
Lychee - Simply exotic lychee fruit.
Mango Guava Slush - A totally tropical combination.
Mango Ice - Juicy, ripe mangos with a cooling blast.
Neon Lime Ice - It doesn't get fresher than this! Mouth-watering lime with a cooling touch.
Passionfruit - The exotic taste of perfectly ripe and zingy passion fruit. 
Raspberry Bubblegum - A deliciously sweet flavour that's so delicious you can almost chew it!
Ricurrant - Fresh and succulent blackcurrant juice - an absolute classic.
Watermelon Sour Apple - The juiciest flavour we've ever tasted - crunchy, tart apple and super refreshing watermelon.
White Grape - Freshly-squeezed white grapes with just the perfect amount of sweetness.